Vivo U1: Android smartphone was launched in February 2019. If you are looking latest tech news then you are in right place.
The phone runs on FunTouch 4.5 based on Android 8.1 (Oreo) operating system.
The Vivo U1 comes with 6.2 inch HD touchscreen display with a resolution of 720×1520 pixels.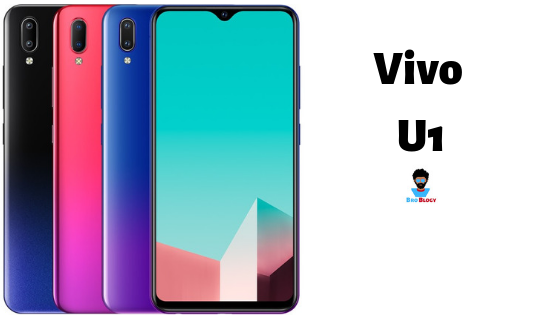 The camera comes with dual 13 + 2 megapixels rear camera with single 8 megapixels front camera setup.
The phone comes with 32 GB of internal storage with 3 GB of RAM. Internal storage can be expandable via microSD up to 256 GB. And powered by Snapdragon 439 chipset.
The Phone comes with water drop notch display.
The phone have build fingerprint sensor on the back with face unlock features support.
Vivo U1 comes with 4030 mAh battery. There are three colors option Night black, Aurora Blue and Aurora Red.
The body of phone made side aluminium frame and front glass and back is plastic.
The price of Vivo U1 is said to start from Rs. 8,444 for the 32 GB of Internal storage with 3 GB of RAM model, going to Rs. 10,557 for 64 GB of internal storage with 3 GB of RAM.
[su_box title="Vivo's U1 Android Smartphone Tech News" style="bubbles" box_color="#c00e0e"]If you like this post about Vivo' latest U1 Android smartphone news update, Please share this post on social media with your friends. Thanks to All![/su_box]